Crowdfunding of Startups, SVForum Quarterly Venture Breakfast Series
May 8, 2014 @ 8:00 am

-

10:00 am

UTC-7
Crowdfunding of Startups:  Practical Advice for Founders and Investors (#SVFCF)
Online registration is now closed. Walk-ins welcome. 
The growing popularity of crowdfunding over the past few years has led to the emergence of several distinct options for entrepreneurs: donation/rewards, debt, and equity based crowdfunding. With very different terms and requirements, it's important to understand the nuances involved with each type of crowdfunding so that entrepreneurs may choose the path most relevant to his/her goals and needs.  Join SVForum's panel of crowdfunding experts and learn about:




Pros and cons of crowdfunding vs. other forms of funding (including VC, professional angels and bank loans),





Overview of crowdfunding options – type of products, funding size, etc. – and the pros and cons of each option. 





Which types of startups (technology/sector, stage of company or funding, target customers, business models, etc.) are best suited for

which types of crowdfunding?





How do you choose the right crowdfunding platform for your fundraising or investment goal? 




We'll also discuss the JOBS Act, and its effect on different types of crowdfunding:




How does the current status of the JOBS Act impact crowdfunding?





Prediction as to when the SEC will actually pass the final part of the JOBS Act.





How can entrepreneurs plan accordingly?





Predictions of how the crowdfunding industry will evolve.





Recommendations for entrepreneurs who are considering or seeking crowdfunding.




Agenda
8:00am – 8:30am     Registration and Breakfast
8:30am – 8:45am     Welcome & Introductions
8:45am – 10:00am   Panel Discussion and Q&A 
Join converation on Twitter with  #SVFCF
Panelists: 
Kevin Laws, COO, AngelList; Co-Founder, Maiden Lane Ventures
Kevin Laws is an active angel investor and Chief Investment Officer for AngelList. Previously, he was founder & CEO of Vast.com, driving deals with Yahoo, AOL, and Microsoft/Bing to power portions of their search technology. He was a principal at PacRim Venture Partners, VP Product at Epinions, a manager in the Media Group at Booz & Co, and headed software development for CSC's Heidelberg, Germany office. He holds a degree in computer science from Dickinson College, a master's in International Relations from Boston University, and an MBA from the MIT Sloan School of Management.
Sam Hodges, Co-Founder and Managing Director, Funding Circle USA
 Sam Hodges leads Funding Circle, the world's first international and leading marketplace for small business loans. Founded in 2010, the company has provided over $450M in financing to small businesses in the U.S. and Europe. Backed with $60M in venture financing from Accel Partners, Index Ventures, Union Square Ventures and Ribbit Capital, the company has three global offices and ~150 employees worldwide.
 Additionally, Sam is a Board Member of WorkingPoint Software (where he previously served as interim CEO) and Clinical Metabolomics, a health technology company which he co-founded. Previously, Sam served as VP of Business Development for SecondMarket, the largest alternative investments marketplace. Earlier in his career, Sam held a variety of investing roles, including ones at Pequot Capital, FirstMark Capital, and Bertelsmann Asia Investments (during which time he was based in Beijing). He started his career as a strategy consultant at Katzenbach Partners. Sam received his MBA and MS from Stanford University and graduated magna cum laude from Brown University, leading the Rugby teams at both schools.
Amanda Hat, Director of Growth Innovation, IndieGoGo
Amanda Hat is the Director of Growth Innovation at Indiegogo, where she is responsible for the vision and development of strategic growth initiatives for the platform. Over the past 2 years Amanda has led several cross-functional initiatives to optimize Indiegogo's platform and more recently, she has been instrumental in expanding Indiegogo's partner ecosystem to bring support and resources to the company's users.
 Prior to Indiegogo, Amanda was an associate at Deutsche Bank in New York where she played an integral role in facilitating bespoke market opportunities across a multi-billion dollar structured investment portfolio including the bank's first international student loan origination program. Prior to this she spent a year working from the bank's London offices where she earned an International Business Certificate from the University of Cambridge. Amanda holds an MBA from the Haas School of Business at UC Berkeley and graduated from The University of Arizona with a B.S. in Business Economics.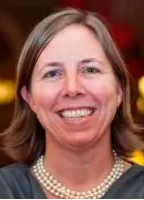 Deb Parsons, Consultant, Portfolia
Deb Parsons has over 10 years in the early stage and impact investing sector. She currently part of the founding team at Portfolia,  an equity crowdfunding platform. She has worked in both the for-profit and non-profit sectors and led the global fundraising efforts at WomanCare Global, a UK based charity that provides women access to safe affordable reproductive healthcare products. Prior to WomanCare Global she served as Director for Investors' Circle (IC), a national angel network focused on social mission start ups.
Prior to Investors' Circle, Ms Parsons was Vice President at Good Capital, a seed stage venture fund, launching and managing the fund's operational aspects, investor relations, and deployment of capital. Ms Parsons was an associate at SJF Ventures, a growth stage venture fund focused on clean technologies and the consumer sector.
A
s the Net Impact chapter leader, she launched the Sustainable Venture Capital Investment Competition (SVCIC), an event that puts MBA student teams in the role of VCs evaluating real business opportunities of socially-responsible businesses actively seeking capital. She is also a frequent judge, mentor and advisor to social venture competitions.
Paul Gu, Co-Founder, Upstart
 Paul is co-founder of Upstart, the first platform to let people access capital based on their potential. Paul pioneered Upstart's statistical models to predict income and employment, and now oversees the team's product and data science efforts. Paul's background is in quantitative finance – he began to profitably trade at the age of 20, and previously worked in risk analysis at the D.E. Shaw Group. He has been recognized as one of Peter Thiel's 20 under 20 Fellows and Silicon Valley Business Journal's 40 under 40. Paul studied economics and computer science at Yale University.
Moderator:
Allison Leopold Tilley, Partner, Pillsbury Law
 Allison Leopold Tilley is a partner with Pillsbury Law, where she focuses on the representation of technology companies in securities and venture capital transactions, including general corporate representation, mergers and acquisitions, private placements, public offerings, venture funds and joint ventures. She has significant experience representing entrepreneurs and venture capitalists as well as acquirers and target companies. She has represented a wide variety of companies ranging from start-ups and emerging growth companies to Fortune 500 companies, private equity firms, venture capital firms and other clients. Ms. Leopold Tilley is a member of the Board of Directors of the Ronald McDonald House at Stanford, the Board of Directors of Watermark, a member of the Advisory Board of Women in Law Empowerment Forum and formerly on the Board of Directors of the Global Women's Leadership Network. Ms. Leopold Tilley is a frequent speaker at events for the Stanford Graduate School of Business, UC Berkeley Haas School of Business, UC Davis School of Business and SVForum.