At Silicon Valley Forum's 2017 AgTech Immersion Program, we had more than 100 participants from over 17 countries discussing and sharing learnings and challenges in AgTech. More importantly, many valuable connections were made between farmers, government, corporates and startups from all over the world.

It was four intense AgTech days running from early mornings until late evenings meeting and visiting companies like Indie Bio, Orange Silicon Valley, Drone Deploy, Climate Corporation, Valsigna Farms, UC Davis, Western Grovers, Thrive Accelerator, Driscoll's Berries and many more.
---
One of the program participants summarized it this way:
"The organization was wonderful – well done to SVF! The bus rides were the most surprisingly positive parts of the trip. Being "trapped" like that meant that I had some really excellent, deep conversations with people about their tech and about mine, and made some very strong connections that I will definitely follow up on. I enjoyed the intensity of the event. The long days crammed full of stuff appeal to me – I feel like I really got my money's worth, and I appreciated the diversity. I got a lot out of sessions on events that had no direct relevance to my tech, and that's high praise."
Over 100 delegates from 17 countries:
2017 AgTech Program Agenda: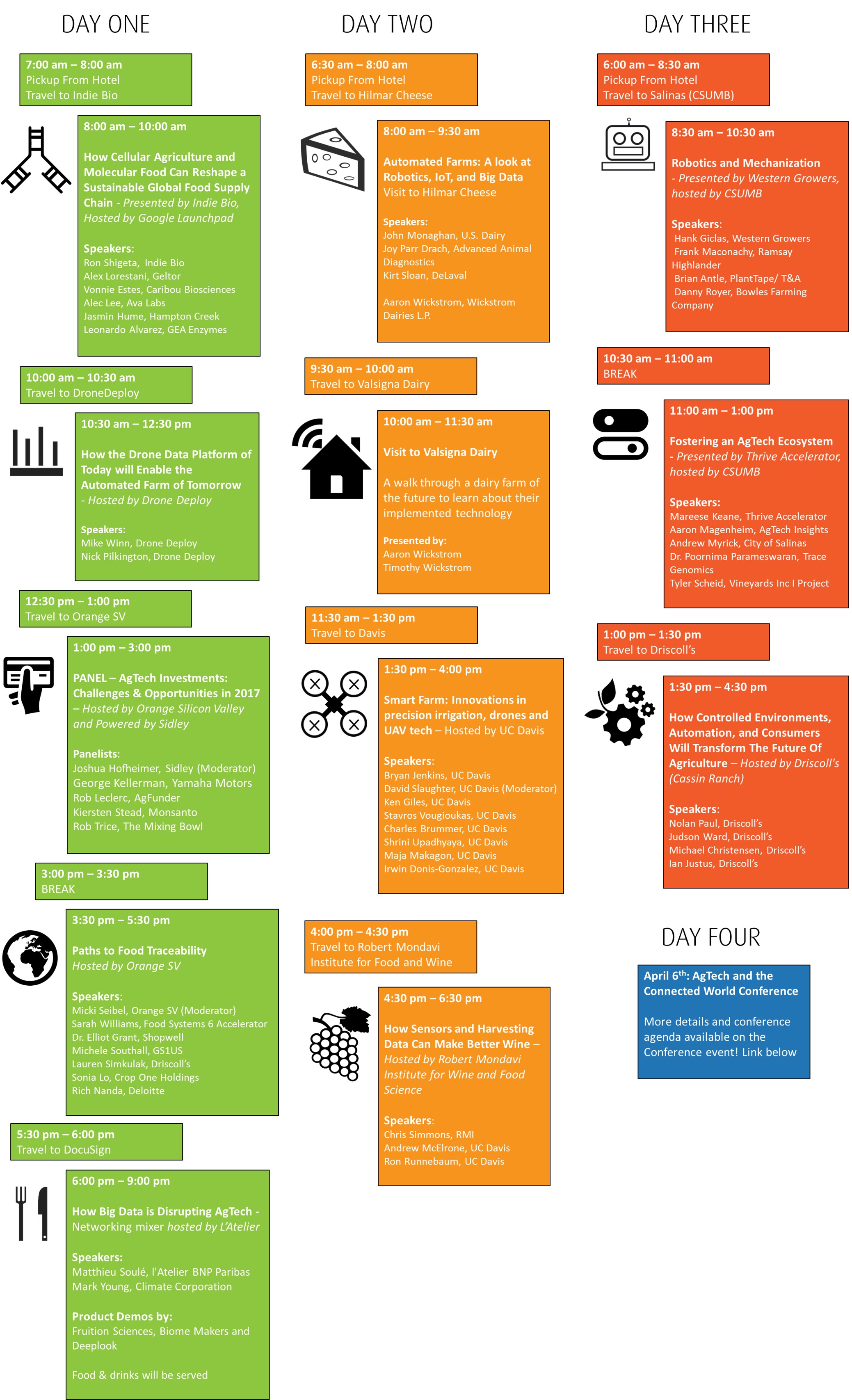 Find the 2017 AgTech Program Agenda and Speakers here: http://bit.ly/AgSV17
Find the 2017 AgTech Conference Agenda here: http://bit.ly/SVAgCon17
Join the Facebook Group 'AgTech – The Seeds of Our Future' to connect with AgTech stakeholders!
About Silicon Valley Forum's Immersion Programs
Silicon Valley Forum creates unique, high-quality Silicon Valley immersion programs, startup workshops, business luncheons, pitch nights, demo days, and more for corporates, accelerators, government and universities worldwide. Each program can be tailored to your delegation's specific needs, find past Silicon Valley immersion programs here and download our program brochures to learn more about what we can do for you!